Today's award goes to
my good friend Aonghus
...
...for providing me with the 30 lives cheat code to the timeless classic 'Contra' for the NES, which I discovered yesterday. Without this code, I was still blundering around on the second level, shouting at the screen. So thank you Aonghus, for enabling me to strengthen my resources in my battle against the militant Alien conspiracy. In the 1980s. Fuck yeah.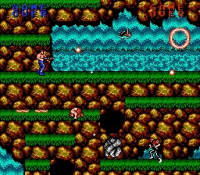 Contra is a great little shooter even though it's damn near impossible without the cheat and still very, very difficult with it.
If you can,
ahem
, find it on eBay, give it a play.