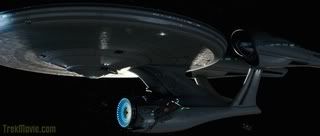 For those of you who don't know, Devon Richards is the man
campaigning to get CBS to read his pilot and series bible for a new Star Trek show
starring a darker, more "James Bond, anti-hero". I ran into him on Facebook Chat and asked him a few questions regarding his proposed series, as well as his thoughts on the franchise in general.
Here were some of the highlights:
Rob
Also, when you say you want to have a 'darker anti-hero' in your show, do you mean that you think the franchise in general should be darker?
Devon
No, the franchise will not get darker as a result, i thought the best way to maintain the "roddenberry metaphor" without writing another series of after-school specials, was to introduce a character that doesn't need to learn how to be human, but how to be humane
Rob
How do you feel about
Bryan Fuller's
efforts to make a more colourful series, like the original?
Devon
At first I liked his idea, then when I came up with my own, thought, "shit, that's not the way to go"
I don't know him, and he's certainly done great work to try and keep "Heroes" on track. Cutting his teeth on Voyager, under Berman is what worries me.
When Berman started commissioning the creation of characters like Barclay, as a deliberate way of thumbing his nose at the fans, that's when I realized he didn't give two fucks about Trek.
The first thing I thought about him as an in-universe character was, "Hey, I've seen the psych exams Wes had to take to get into the Academy! How did this bag of quivering jell-o pass them?!!"
Starfleet officers have to stand toe-to-toe with angry gods in outer space.
Rob
What elements would you retain or jettison completely?
Devon
If the solution to a problem is the pushing of a button, the button will be pushed. There will be no 40 minute "ask every single crew member about the moral implications of the pushing of the button"
Rob
Hahahaha
There are a few too many TNG eps that do that.
Devon
Also, the stunted romances are gone, when people are attracted to each other, they will act on it - period.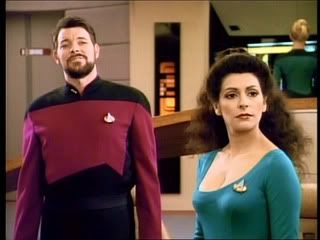 I don't know about where you live, but I can have sex with a hot girl for the price of three beers on a Friday night, why would the people of the future forget how to get it on?
Rob
You clearly aren't happy with some of the decisions executive producer and general franchise handler Rick Berman made in the nineties, up until the cancellation of Star Trek: Enterprise in 2005 (whereby he more or less relinquished his control over the franchise). Care to talk more about that?
Devon
I, like many fans, feel we have the right to point our ire in his direction. I think the biggest mistake he and the studio made was not having an escape plan if he needed to be replaced. I get the impression that he was grooming Ron Moore and Brannon Braga. Moore left because of Voyager's direction, and Braga wasn't a logical choice after Enterprise. That left no one. Poor, poor planning.
A lot of the moves he made demonstrate an embittered, abject hatred for Trek and its fans.
Again, while I don't know him at all, i wouldn't do things his way - ever
Rob
I must say though, that based on his
statements
based around the rise and fall of
Star Trek: Voyager
, I have the utmost respect for Ron Moore. The essays on Voyager were essentially about the same stuff I was screaming at the screen, having only seen a handful of episodes.
Devon
Ron Moore did the right thing in leaving. The result was we got to see everything he wanted to do in Voyager on
Battlestar
.
Moore knew his Trek better than the rest of them, and nobody was listening.
His story gives me hope though - He, like me, was a fan who submitted, and got picked to work on the show.
Rob
Let's talk about the new movie for a second, before you go
Sum up your thoughts?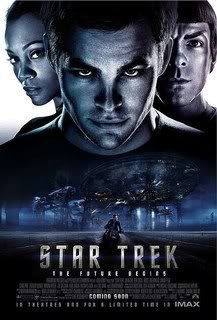 Devon
Brought Trek back to where it started - Trek is, in essence, an adventure. That got forgotten somewhere along the way.
The ads in the movie kinda bugged me, but the $150 million bucks had to come from somewhere.
My other thoughts on the movie would be that I loved the score - I understood right away what Giachinno was doing. Seven crew members = Magnificent Seven. I got it, unfortunately most Trek fans don't know much of entertainment lore outside the franchise. so they crap on anything unfamiliar. Then again these are the same fans who accepted a 24th century Akira class Starship in the 22cd century, and that Deuterium was gasoline.
Rob
Thanks for answering all of these questions, Devon!
Devon
Anytime. I'll keep you posted.