It's that time again!
This time, I'm going to award it not to a single individual, but to an organisation. I think there are very few of you that will disagree that Leo Burdoch's Takeaway is probably the finest franchise with which we Irish have been able to associate ourselves.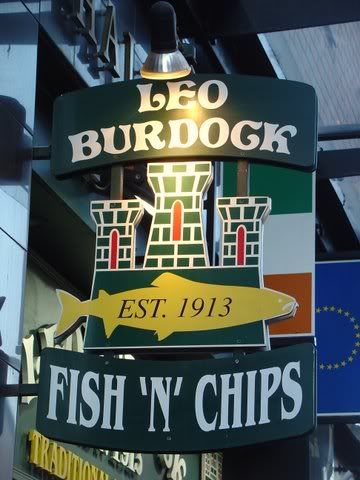 The service is reliably excellent with staff who are always friendly (even at obscene hours in the morning) and the food is so freakishly delicious and plentiful in its quantity that you never, ever regret forking out the customary €2.95 for a bag of chips. Not to mention, the place always looks incredibly clean, especially when you take into account the fact that there are crack-dens that are cleaner and more well-kept than Supermacs and Abrakebabra.
Last night, after three post-work pints in Winter's, I was feeling quite a bit peckish so my jolly old buddy
Kevin Corcoran
and I opted for this fine Irish establishment (after initially considering McDonalds as the better option). The gentleman behind the counter asked if I would like "Chunky Chips or
even chunkier
chips?". I responded as any monetarily-impaired capitalist would: "How much extra does that cost?"
His answer? "
Nothing
. It's just something different we're trying out, at no extra cost."
The chips were indeed chunkier and quite a bit different, but no less delicious and well worth the money. Truly, the work of badasses. Enjoy your award, and my continued, post-pints custom in the future.